Josh Berro's Prog Rock Playground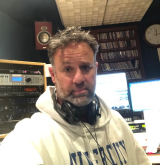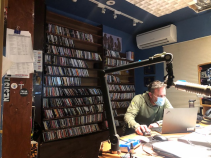 Music is a gargantuan part of my past, present, future, and identity. The songs I play on my show reflect my passion for music and my love for progressive music; specifically progressive rock. Don't get me wrong, I enjoy all types of sounds including straightforward, kick-ass rock and roll, metal, hip-hop, pop, jazz, and classical music, but it's the combination of those styles and elements that really excites me.
My love for songs that deviate from the norm started back in Elementary and Middle School when I discovered Rush. From there, I began to obsess over bands like Yes, Pink Floyd, Led Zeppelin, and Genesis.
Like a true addict, the older I got, the more immersed I became in the world of music. My obsession with and around the self-discovery of different Progressive acts grew at a frenetic pace. I couldn't get enough!
It's from this musical philosophy and upbringing which gave birth to the name of my show, "The ProgRock Playground." In my mind's eye, I picture all of the genres listed above playing together in a sandbox; exchanging musical ideas, and trading techniques, thoughts and stories.
I don't proclaim to be a master or some all-knowing prog authoritarian, rather, I just enjoy sharing my love for music that, well, sings to me.
There's rarely rhyme or reason to the songs I select for each show. There's often not a theme or a master plan involved (although I do try and pay attention to what song might sound good coming out of the previous song and so on).
I create each show by developing a playlist over the course of a two-week period. I'm constantly adding and removing songs from a deep reservoir of songs that live in my ever-growing library. Each playlist is subject to my mood, feelings, and attitudes at any given moment.
I'm also in a few progressive music Facebook groups which provide inspiration (along with a lot of opinionated, fellow nerds). Finally, I do rely on requests and recommendations from friends, family, and the like.
Here's the listening/streaming info:
KDNK Listen live every other Wednesday at 9:00 MST.
You can also find shows that you missed HERE. They live on the website up to two weeks after each show. Then they disappear… However, all is not lost! Thanks to my Uncle Mike (webmaster) my playlists will live here on this website for eternity.
Thank you for reading, and listening, and feel free to email a comment or something. jberro2112@gmail.com
Yours in Prog - Josh
---
Playlists
January 18, 2023
Call of the Void by Devin Townsend
Show Don't Tell by Rush
The Voice by The Alan Parsons Project
Beware My Love by Wings, John Bonham
Many a Mile to Freedom by Traffic
Chestholder by Abacus
Journey of the Sorceror by Eagles
It's You by Kansas
Sophie by Jeff Beck
King of the World by Steely Dan
Sometimes I Don't Know What to Feel by Todd Rundgren
Catastasis by Elder
Jerusalem by Emerson, Lake & Palmer
Star of Sirius by Steve Hackett
Cogs in Cogs by Gentle Giant
Anxiety by Billy Cobham
Taurian Matador by Billy Cobham
The Talking Drum by King Crimson
Cans and Brahms by Yes
We Have Heaven by Yes
Retropolis By Night by The Flower Kings
---
December 28, 2022
Quicksilver Girl by Steve Miller Band
Boys Keep Swinging by David Bowie
Time Was by Canned Heat
Drink of Water by Ambrosia
Snowball - Live by DEVO
Snowblind by Styx
Snowblind by Black Sabbath
Cold Wind to Valhalla by Jethro Tull
The Big Money by Rush
Escape From the Island by KISS
Constipated Duck by Jeff Beck
Secret Journey by The Police
Debris by Faces
Wild West End by Dire Straits
The Travel Sequence - Live by Pink Floyd
Sploosh! by Ozric Tentacles
Last Chance to Evacuate Planet Earth Before it is Recycled by Porcupine Tree
Leave It by Yes
10538 Overture by Electric Light Orchestra
The Barbarian by Emerson, Lake & Palmer
Can-Utility and the Coastliners by Genesis
The Prophet's Song by Queen
---
December 7, 2022
Saved by Bob Dylan
Zephyr by Mondo Drag
A New Day Yesterday by Jethro Tull
Aurora Borealis by Meat Puppets
One More Time by The Clash
On Any Other Day by The Police
Child's Anthem by TOTO
Rose Darling by Steely Dan
Wheels of Fortune by The Doobie Brothers
Drink of Water by Ambrosia
Keeping Back My Love by Caravan
Sometimes I feel Like Screaming by Deep Purple
Songbird by Fleetwood Mac
Visions of Johanna by Grateful Dead
Earthrise by Camel
Heresy by Rush
Sectarian by Steven Wilson
Without Words Remix by Cyrille Verdeaux
Another View Point by Cornelius
Mr. Wright by The Claypool Lennon Delirium
Anemone by The Brian Jonestown Massacre
---
November 9, 2022
Intermission by TOOL
Jimmy by TOOL
Sol Caliente by Phil Manzanera, Quite Sun
Heartbeat by Herbie Hancock
We Come In Peace by Scary Goldings
What About It? by Eddie Hazel
Red by King Crimson
Red Lenses by Rush
New World Rising / Ocean Breakup Reprise by Electric Light Orchestra
Up to Me by Jethro Tull
The World Became the World by P.F.M.
Wintertime Love by The Doors
Cinema by Yes
No Twilight Within the Courts of the Sun by Steven Wilson
Another Life by Utopia
Odyssey by Flying Colors
When the Apple Blossoms Bloom in the Windmills of Your Mind by Emerson, Lake & Palmer
Radio by Steve Hillage
The Cinema Show by Genesis
714 by Wishbone Ash
---
October 26, 2022
Did You Ever Look so Nice by The Samples
Bombs Away by The Police
New World Man by Rush
Hole in the Sky by Black Sabbath
Lee Van Cleef by Primus
Rift by Phish
Cocoon by Richard Henshall
Silken Chains by Richard Henshall, David Maxim
Mama Frog by Ambrosia
Several Species of Small Furry Animals by Pink Floyd
I Got the Blues by The Rolling Stones
Love in the Past Tense by Porcupine Tree
Never Say Nups to Nepalese by Man
Ice by Camel
To the Runner by Jon Anderson
The Old Castle - Live at Newcastle City Hall 1971 by Emerson, Lake & Palmer
Blues Variation - Live at Newcastle City Hall 1971 by Emerson, Lake & Palmer
Porcelina of the Vast Oceans by The Smashing Pumpkins
---
October 12, 2022
Flash's Theme Reprise by Queen
The Hero by Queen
Hit It and Quit It by Funkadelic
Put It This Way by Colosseum II
America by Yes
Incomudro-Hymn to the Atman by Kansas
Chimera's Wreck by Porcupine Tree
River by Opeth
On An Island by David Gilmour
Tears by Rush
Peace - A Beginning by King Crimson
Peace - A Theme by King Crimson
Peace - An End by King Crimson
World of Adventures by The Flower Kings
Nuclear Burn by Brand X
Eat That Question by Frank Zappa
The Musical Box by Genesis
Among His Tribe by Ween
---
August 17, 2022
Ma-Ma-Ma Belle by Electric Light Orchestra
Rock and Roll Crazies by Stephen Stills
The 25th Chapter by Incognito
She's Leaving Home' by The Beatles
Playing the Game by Gentle Giant
Common Ground by Styx
Dignity by Porcupine Tree
Windowpane by Opeth
Three of a Perfect Pair by Between The Buried And Me
Larks' Tongues in Aspic, Pt. III by King Crimson
Turn of the Century by Yes
714 by Wishbone Ash
God If I Saw Her Now by Anthony Phillips
A Farewell to Kings by Rush
All the Madmen by David Bowie
I. Overture by Dream Theater
About to Crash by Dream Theater
G.P.S Culture by The Tangent
---
August 3, 2022
Conspiranoia by Primus
Death of Mother Nature Suite by Kansas
Dharma for One by Jethro Tull
Maggot Brain by Funkadelic
Sofa No. 1 by Frank Zappa and The Mothers of Invention
Please Don't Touch by Steve Hackett
The Voice of Necam by Steve Hackett
Coming Home by Fleetwood Mac
Where's My Thing by Kyros
Oxygene, Pt. 2 by Jean-Michel Jarre
Sweetness by Yes
One Rainy Wish by Jimi Hendrix
Fish by Steve Hillage
Meditation of the Snake by Steve Hillage
Larks' Tongues In Aspic by King Crimson
Prelude - Song of the Gulls by King Crimson
---
July 20, 2022
Golf Girl by Caravan
Welcome Back Home by The Byrds
Birthright by Anderson Bruford Wakeman Howe
Country House Shuffle by Dixie Dregs
Different Strings by Rush
Of The New Day by Porcupine Tree
Burning Rope by Genesis
A Visit to Newport Hospital by Egg
Fault Line by Deep Purple
The Painter by Deep Purple
A Song for the Rain by Pelagos
Groove of Satan by Owane
Nandi by Art Against Agony
Soma by The Smashing Pumpkins
The Ikon by Utopia
The Final Cut by Pink Floyd
---
July 6, 2022
Medieval Overture - Instrumental by Return To Forever
Supertwister by Camel
Castle Walls by Styx
Cosmic Messenger by Jean-Luc Ponty
Black Diamond by Kiss
Tempus Fugit by Yes
Empty Space Revealer by Glass Hammer
L'Auberge Du Sanglier by Caravan
Bastille Day - Live at Hammersmith by Rush
Metropolis - Part 1: The Miracle and the Sleeper by Dream Theater
Set the Controls for the Heart of the Sun by Pink Floyd
Aspirations by Gentle Giant
Time Table by Genesis
Ogre Battle by Queen
The Fairy Feller's Master-Stroke by Queen
Nevermore by Queen
Last Minute On Earth by The Flower Kings
Trilogy by Emerson, Lake & Palmer
---
June 23, 2022
Introduction by Chicago
Madman Across The Water by Elton John
4:41AM (Sexual Revolution) by Roger Waters
The Ghost Song by The Doors
Meadows by Joe Walsh
Cosmic Dancer by T. Rex
Firehouse by KISS
Subway Train by New York Dolls
X Offender by Blondie
Young and Rich by The Tubes
On the Radio by Cheap Trick
It's All I Can Do by The Cars
Lonely People by Styx
Lonely in Your Nightmare by Duran Duran
Gut Feeling / (Slap Your Mammy) by DEVO
Celluloid Heroes by The Kinks
Sister Europe by The Psychedelic Furs
Fools In Love by Joe Jackson
Generals and Majors by XTC
On the Outside by Oingo Boingo
---
June 22, 2022
Right Way Back by Crown Lands
The Bomber by James Gang
Ora Non Ricordo Piu - Live by Rovescio della Medaglia
Il Suono Del Silenzio - Live by Rovescio della Medaglia
Vital Signs - Live in YYZ 1981 by Rush
Cross-Eyed Mary - Live by Jethro Tull
I'm on Fire' by Nektar
One O'Clock Tomorrow by FM
Great Expectations by TOTO
The Pinnacle by Kansas
Mad Man Moon by Genesis
Indoor Games by King Crimson
Veil by Haken
Anesthetize by Porcupine Tree
---
June 8, 2022
Bring It on Home by Led Zeppelin
Hand of Doom by Black Sabbath<
Peace Frog by The Doors
Blue Sunday by The Doors
Prodigal Son by The Rolling Stones
Pride of Cucamonga by Grateful Dead
Lady Luck by Journey
May This Be Love by Jimi Hendrix
It's Gonna Be (Alright) by Ween
Canary Yellow by Haken
Everything In Its Right Place by Radiohead
30 Century Man by Scott Walker
Day at the Beach by Joe Satriani
Madrigal by Rush
The Runaway by Gentle Giant
Contortionist by Their Dogs Were Astronauts
Any Advance On Carpet by Caravan
Indian Explosion Bowling by Owane
Spiral Galaxy 24968 by Hawkwind
June by Spock's Beard
The Three Fates by Emerson, Lake & Palmer
---
May 11, 2022
Brighton Rock by Queen
Intermission by TOOL
Jimmy by TOOL
Topaz by Journey
Decline and Fall by Atomic Rooster
Beneath, Between & Behind by Rush
The Camera Eye by Rush
The Vanilla Queen by Golden Earring
Daybreaker by Electric Light Orchestra
Mangko by Mats/Morgan
The Dog, The Dog, He's At It Again by Caravan
Lucy Will by Anthony Phillips
Nightingale by Haken
Ectogenesis by Animals As Leaders
Really Don't Mind / See There a Son is Born by Jethro Tull
The Poet and the Painter by Jethro Tull
Take a Pebble by Emerson, Lake & Palmer
---
April 27, 2022
Nightcall by Kavinsky
Roses Are Free by Ween
Dialing For Dharma by FM
I'm a Cadillac / El Camino Dolo Roso by Mott The Hoople
Star by David Bowie
Sick Again by Led Zeppelin
The Twilight Zone by Rush
Black Cat by Gentle Giant
I Cheat the Hangman by The Doobie Brothers
Night By Night by Steely Dan
Dave's Gone Skiing by TOTO
Paperhouse by CAN
Left Handed Theory by Premiata Forneria Marconi
Rifferama by Hatfield & The North
Larks' Tongues In Aspic by King Crimson
The Seven by Primus
What You Are Listening To by Porcupine Tree
Wheels of Confusion / The Straightener by Black Sabbath
Lunar Sea - Live At Coston Hall by Camel
---
April 13, 2022
Clear by Haken
The Good Doctor by Haken
Bad Asteroid by The Aristocrats
One Brown Mouse by Jethro Tull
Harem Scarem by Focus
5:15 by The Who
Flor de Canela by Santana
Promise of a Fisherman by Santana
Los Endos by Genesis
Even In the Quietest Moments by Supertramp
Il quinto mare by Happy the man
If by Pink Floyd
Western Sunset by Envy of None
Battles by Peter Banks, Phil Collins
Knights (reprise) by Peter Banks, John Wetton, Phil Collins
Father of Day, Father of Night by Mannfred Mann's Earth Band
Kid Gloves by Rush
Silent Talking by Yes
I Am the Sunm Pt. 1 by The Flower Kings
Repent Walpurgis by Procol Harem
---
March 23, 2022
Superstars by Styx
For What It's Worth by Rush
Short and Curlies by The Rolling Stones
Bonzo's Montreux by Led Zeppelin
Apostrophe' by Frank Zappa
Phasors on Stun by FM
Hydra by Toto
Gypsy by Fleetwood Mac
Bouree by Jethro Tull
Are You Receiving Me by Golden Earring
Chocolate Chip Trip by TOOL
Billabong Valley by King Gizzard & The Lizard Wizard
Theme (From Crocodile Dundee) by Sel Balamir
Shaving Is Boring by Hatfield & The North
Knife-Edge by Emerson, Lake & Palmer
Poor Man's Moody Blues by Barclay James Harvest
Some Other Time by The Alan Parsons Project
Starless by King Crimson
---
March 2, 2022
Nearly Lost You by Screaming Trees
Into the Void by Black Sabbath
Sha La La by Thin Lizzy
Between the Wheels by Rush
Entropy by Voyager
Planet of Insects by Amplifier
Simple As That by The Pineapple Thief
Classic Girl by Jane's Addiction
Us and Them by Pink Floyd
Any Colour You Like by Pink Floyd
Brain Damage by Pink Floyd
Eclipse by Pink Floyd
Lucky Seven by Chris Squire
Gong by Cathedral
Routine by Steven Wilson, Ninet Tayeb
Ravine by Genesis
The Light Lies Down on Broadway by Genesis
Riding the Scree by Genesis
In the Rapids by Genesis
It by Genesis
Stay Forever by Ween
Luna by The Smashing Pumpkins
---
February 16, 2022
Stinkfist by TOOL
The Witching Hour (Electric Witch) by Crown Lands
Beneath, Between & Behind by Rush
People and Places by Journey
Precious Time by Journey
I Talk to the Wind by King Crimson
Om Nama Shivaya by Steve Hillage
Limbo by Richard Henshall
Dogs by Pink Floyd
Night Shift by Bob Marley & the Wailers
Eastern Market by Yusef Lateef
Questions of my Childhood by Kansas
A Cry For Everyone by Gentle Giant
Knots by Gentle Giant
The Lamia by Genesis
Silent Sorrow in Empty Boats by Genesis
The Colony of the Slippermen by Genesis
The Argus by Ween
Cold Brains by Beck
---
February 2, 2022
Exp by Jimi Hendrix
Up From the Skies by Jimi Hendrix
Exp by Jimi Hendrix
Wildlife by Tony Williams
Best I Can by Rush
Perpetual Change by Yes
Elliptical Seasons by Starcastle
The Melting Andalusian Skies by The Tangent
Bitches Crystal by Keith Emerson
Beautiful Boy by John Lennon
On the Turning Away by Pink Floyd
The Big Picture by King's X
Meeting of the Spirits by Mahavishnu Orchestra
Sad City Sisters by Jethro Tull
Oh Well (Pt. 1) by Fleetwood Mac
Oh Well (Pt. 2) by Fleetwood Mac
Lilywhite Lilith by Genesis
The Waiting Room by Genesis
Anyway by Genesis
Here Comes the Supernatural Anaesthetist by Genesis
The Octopus by Amplifier
She Wanted to Leave by Ween
---
January 19, 2022
Whiskey River by Budgie
The Bends by Radiohead
Freewill by Rush
Forty Six & 2 by TOOL
Tenement Funster by Queen
Flick of the Wrist by Queen
Lily of the Valley by Queen
All Skin and Bone by Colosseum II
Dialing for Dharma by FM
Deathwish by The Police
S.F. Sorrow is Born by The Pretty Things
Errors of My Way by Wishbone Ash
I Don't Know It's Name by Caravan
Worlds Beyond by Premiata Forneria Marconi
Transcending Time by Dream Theater
The Grand Parade of Lifeless Packaging by Genesis
Back in N.Y.C. by Genesis
Hairless Heart by Genesis
Counting Out Time by Genesis
Carpet Crawlers by Genesis
The Chamber of 32 Doors by Genesis
Something About You by Boston
Rock 'n' Roll with Me by David Bowie
Emergency Exit by Mother Hips
---
January 5, 2022
To The Bone by Steven Wilson
Alien Shore by Rush
Mr. Blue Sky by Electric Light Orchestra
To Cry You Song by Jethro Tull
South Bound Saurez by Led Zeppelin
Jerusalem by Keith Emerson
A Faerie's Play by Wobbler
The Boys in the Band by Gentle Giant
Sailor's Tale by King Crimson
Beating the Odds by Liquid Tension Experiment
Eternity's Breath, Pt. 1 by Mahavishnu Orchestra
Eternity's Breath, Pt. 2 by Mahavishnu Orchestra
Echoes (Live at Pompeii) by Pink Floyd
Yours is No Disgrace by Yes
She's Your Baby by Ween
---
December 29, 2021
Circles by Manfred Mann's Earth Band
Share It by Hatfield & The North
Portals by Haken
Burnin' Sky by Bad Company
Lightning's Hand by Kansas
Fat Mama by Herbie Hancock
Moonshake by Can
Golden Dilemma by Gong
Il mio avviso by Il Doge
Revolution by Bob Marley & The Wailers
Wise Up by Aimee Mann
Free To Be ... You And Me by The New Seekers
Erpland by Ozric Tentacles
Excerpts from Brain Salad Surgery by Emerson, Lake & Palmer
Toccata by Keith Emerson
The Trees by Rush
Sway by The Rolling Stones
Generale by Premiata Forneria Marconi
The Lamb Lies Down on Broadway (Live) by Genesis
Fly on a Windshield (Live) by Genesis
Cuckoo Cocoon (Live) by Genesis
In the Cage (Live) by Genesis
Hang on to Yourself by David Bowie
---
December 22, 2021
Frame by Frame by King Crimson
Signals by Super Florence Jam
You Never Give Me Your Number by The Beatles
Propulsion 1 by Kansas
Looking for Today by Black Sabbath
Intergalactic Strut by Colosseum II
Macrocosm by Brand X
Trouble by Yusuf (Cat) Stevens
Horizons by Genesis
Blue - Gish Sessions Demo by The Smashing Pumpkins
Banshee by Thin Lizzy
Sleepyhouse by Blind Melon
The Oracle by Crown Lands
Candy-O by The Cars
D.I.Y. by Peter Gabriel
To Be a Man by Boston
The Garden by Rush
A Spoonful of Bromide by Atomic Rooster
Vitamin C by Can
Ritual by Yes
---
December 8, 2021
War Paint by Rush
Trains by Porcupine Tree
Silent Lucidity by Queensryche
Take it Back by Pink Floyd
The God of Wind by Far East Family Band
The Unknown Soldier by The Doors
Rain by The Beatles
Machinations by Tacoma Narrows Bridge Disaster
One King by Glass Hammer
Shoot High, Aim Low by Yes
The Battle of Epping Forest by Genesis
Alucard by Gentle Giant
Wallbanger by Gryphon
Tarkus by Keith Emerson
Flutes of Chi by Ween
---
November 10, 2021
Harridan by Porcupine Tree
FM 145 by Fluid Druid
Exactly Where I'm At by Ween
Yoshimi Battles the Pink Robots, Part 2 by The Flaming Lips
Son and Daughter by Queen
Hots on for Nowhere by Led Zeppelin
Gates of Steel by DEVO
Country House Shuffle by Dixie Dregs
Remembering the Future by Finch
Awaken the Master by Dream Theater
The Advent of Panurge by Gentle Giant
Ace of Wands by Steve Hackett
Rhayader by Camel
Rhayader Goes to Town by Camel
The Post War Dream by Pink Floyd
One of the Few by Pink Floyd
The Fountain of Lamneth by Rush
Miss You by The Rolling Stones
---
October 27, 2021
Subdivisions by Rush
Dodo / Lurker by Genesis
No No No by Deep Purple
Master of the Universe by Hawkwind
Daydream by Journey
The Wizard by Uriah Heep
Fool's Overture by Supertramp
Oh I Wept by Free
Still...You Turn Me On by Emerson, Lake & Palmer
Back-Door Angels by Jethro Tull
Peff by Soft Machine
Four Gongs Two Drums by Soft Machine
Starless and Bible Black by King Crimson
The Gates of Delirium by Yes
---
October 13, 2021
Sychronicity I by The Police
Our Song by Yes
Heart of Lothian by Marillion
Drifting in Space by Captain Beyond
Anthem by Rush
Inner Light by Crown Lands
Tell All the People by The Doors
Amazing Jurney by The Who
Sparks by The Who
Heartstrings by Frost*
Popscape by Ozric Tentacles
Silhouette by Leprous
Queen of Spades by Styx
One of a Kind Pt. 1 by Bruford
One of a Kind Pt. 2 by Bruford
Master of Sensation by Eloy
Theme One - Original Version by Van Der Graaf Generator
Poor Mr. Rain's Ordinary Guitar by The Flower Kings
Blind Faith by Dream Theater
Flight of the Snow Goose by Camel
Preparation by Camel
One for the Vine by Genesis
---
September 29, 2021
Devo Corporate Anthem by Devo
Clockout by Devo
Night Spots by The Cars
Five Years by David Bowie
Topeka by Jan Hammer
Scatterbrain by Jeff Beck
Cool the Engines by Boston
Death Walks Behind You by Atomic Rooster
17 by Jethro Tull
Wynona's Big Brown Beaver by Primus
Kosmos by Amplifier
Cadence and Cascade by King Crimson
Tried and True by Ween
Green Earrings by Steely Dan
Reflection by Tool
Master of Sensation by Eloy
La Villa Strangiato by Rush
Fill the Cup by Sel Balamir
---
September 15, 2021
Force Ten by Rush
We're Gonna Groove by Led Zeppelin
Sweet Lady by Queen
Running Gun Blues by David Bowie
Burning Airlines Give You So Much More by Brian Eno
Memory Lain, Hugh / Headloss by Caravan
Enigmatic Ocean, Part II by Jean-Luc Ponty
The Curse of Baba Yaga by Emerson, Lake & Palmer
Nothing At All by Gentle Giant
Under the Sun / Every Day Comes and Goes by Black Sabbath
And You and I by Yes
The Mule by Deep Purple
First Light by Camel
Two Left Feet by Holly Golightly & The Brokeoffs
---
August 18, 2021
Dancing Madly Backwards by Captain Beyond
Diary of an Empty Day by The Nice
Mobile by Gentle Giant
Reggatta De Blanc by The Police
Breakdown by The Alan Parsons Project
A Tear for Eddie by Chocolate & Cheese
I'm Freaking Out by Dixie Dregs
Contusion by Stevie Wonder
Metrognome by Camel
Drunkship of Lanterns by The Mars Volta
Hurdy Gurdy Glissando by Steve Hillage
---
August 4, 2021
Thick as a Brick (Part 1) by Jethro Tull
Sunburst Finish by Utopia
The Spider by Kansas
Portrait (He Knew) by Kansas
Xanadu by Rush
One of These Days by Pink Floyd
South Side of the Sky by Yes
Right Off (Edit) by John McLaughlin
Disco Suicide by Brand X
Apollo by Big Big Train
Entangled by Genesis
Broken Seams by Jon Murdock
Epitaph by King Crimson
Two Left Feet by Holly Golightly & The Brokeoffs
---
July 7, 2021
The Grand Illusion by Styx
Night Flight by Led Zeppelin
Never Say Die by Black Sabbath
Tomorrow Never Knows by The Beatles
Skating Away (On the Thin Ice of the New Day) by Jethro Tull
Waiting For the Sun by The Doors
Waves Within by Santana
Ride My See-Saw by The Moody Blues
Sufficiently Breathless by Captain Beyond
The Four Horsemen by Aphrodite's Child
San Tropez by Pink Floyd
Trilogy by Emerson, Lake & Palmer
Hidden Moods by Happy the Man
Madrigal by Yes
Fracture by King Crimson
In the End by Rush
---
June 9, 2021
Hometown by Wishbone Ash
I'm a Loser by No Heavy Petting
Losing It by Rush
Falling Back to Earth by Haken
The Incident by Porcupine Tree
Muddy Water by King Gizzard & The Lizard Wizard
Mutilated Lips by Ween
Terrapin Station Medley by Grateful Dead
Of Course by Jane's Addiction
Suffer by The Smashing Pumpkins
Rhythm of Life by The Flower Kings
Retropolis by The Flower Kings
Jourcney From Miriabronn by Kansas
Pieces of Eight by Styx
Aku-Aku by Styx
Aftaglid by Steve Hillage
---
May 26, 2021
all ways the same by Echolyn
as the world by Echolyn
Nice Day for It... by Frost
White Summer by The Yardbirds
Doing All Right by Queen
Make Us All Aware by Ambrosia
John McLaughlin by Miles Davis
Secret Journey by The Police
The Endless Enigma Pt. 1 by Emerson, Lake and Palmer
The Camera Eye by Rush
Symptom of the Universe by Black Sabbath
Parabol by TOOL
Parabola by TOOL
Awaken by Yes
Supper's Ready by Genesis
Three Friends by Gentle Giant
Facts of Life by The Who
---
May 12, 2021
Fear of a Blank Planet by Porcupine Tree
Pyre by Agent Fresco
O.N.E. by King Gizzard & The Lizard Wizard
Myriapod by Ozric Tentacles
Sleepless by King Crimson
Context: Fearless Pt. 1 by Crown Lands
Jacob's Ladder by Rush
We Used To Know by Jethro Tull
Chiefs and Indians by Caravan
Dark Side of the Moog by Colosseum II
Overture:Mountaintop and Sunrise by Utopia
Overture by Styx
Gone Gone Gone by Styx
The Last Refuge by Roger Waters
Mihalis by David Gilmore
Surrender to Reason by Dream Theater
Closure by Opeth
Master Builder by Gong
The Fountain of Salmacis by Genesis
---
Apr 28, 2021
The Barbarian by Emerson, Lake and Palmer
Country and Eastern Music by Jan Hammer
Opus Insert by Kansas
Eldsjäl by The Mommyheads
Red Barchetta by Rush
Down by the Seaside by Led Zeppelin
Starship Trooper by Yes
The Fez by Steely Dan
I Never Glid Before by Gong
Knee Bitten Nymphs in Limbo by Happy the Man
Carousel by Haken
Atlas Novus by Scale the Summit
Lunar Sea by Camel
Not Now John by Pink Floyd
Home Invasion by Steven Wilson
The Bottom Line by Spock's Beard
Ataypura by Yma Sumac
---
Apr 14, 2021
Circles by Manfred Mann's Earth Band
Freedom Fighters by Utopia
Tank by Emerson, Lake and Palmer
Song of the Wind by Santana
The Stretch by Liquid Tension Experiment
Dawn by Mahavishnu Orchestra
Thru Metamorphic Rocks by Tangerine Dream
Secrets by Van Halen
Pretty Woman by Van Halen
Cygnus X-1 by Rush
Veil by Haken
Unrock by Gabriel Rios
The Lost Song by The Cat Empire
High Up On the Hook by Alice Russell
Incident at Neshabur by Santana
The Orange Terrace by Bombay Dub Orchestra
---
Apr 7, 2021
Territories by Rush
Fat Man by Jethro Tull
Walking in Your Footsteps by The Police
No Quarter by Led Zeppelin
The Sleeper by Camel
What Deaner Was Talking About by Ween
First Light in the Garden at Chipping by Psychedelic Porn Crumpets
Grantchester Meadows by Pink Floyd
Throwing Mountains by Kansas
Easy Money by King Crimson
The Musical Box by Genesis
Generale by Premiata Forneria Marconi
Sound Chaser by Yes
Lakeside Park by Rush
Hazard Profile Part 1 by Soft Machine
Incident at Neshabur by Santana
---
Copyright 2021 by Josh Berro
All rights reserved
Webmaster: support@progrockplayground.com